---
Barbecue Champ – Southern Living Magazine, April 2006, Florida Living Section, pp. 16-19
Graduating from a prestigious culinary school doesn't guarantee you'll win a barbecue competition. Byron Chism admits that truth with a good-natured laugh, describing his first steps into the hotly contested world of cook-offs.
Know, before you read on, that since 2001 Byron has been listed every year as one of the top 10 cooks designated by the Kansas City Barbeque Society, which is the largest sanctioned organization for the bestowing of such honors. Know, too, that the field encompasses some 6,000 members. He's a true winner in the field — now.
"I thought these guys were just out there having fun…." keep reading
---
Unca Duke's Geaux Jus® & Bad Byron's Butt Rub – by Margit Bisztray – Coastal Homes & Lifestyles, 04/08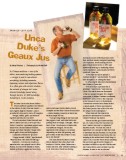 Vinegar, chilies, garlic: put them all together and what do you have?
If you're anywhere Duke Bardwell and Byron Chism can reach, you've got Unca Duke's Geaux Jus®: a premium pepper sauce made from a honey-infused balsamic vinegar and white balsamic vinegar with whole garlic cloves and chili peppers.
Geaux Jus is French for "go juice."
"Happy mouth, I call it," says Bardwell. "That heat that only mellows with age." keep reading
---
The rise of competitive BBQing – By Darren Rovell – ESPN.com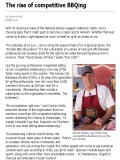 With its recent purchase of the National Hockey League's television rights, OLN is showing signs that it might push to become a major sports network. Whether that ever comes to fruition might depend as much on beef on grills as skates on ice.
This Saturday at 10 p.m., OLN is airing the season finale of its original program, the "All-Star BBQ Showdown." It's the culmination of a series of nine grill-offs between professional and amateur chefs for the right to be called the best barbecue chef in America. Think "World Series of Poker" meets "Iron Chef."
Like the growing professional competitive eating circuit, competitive barbecuing is now one of the faster-rising sports in this country. The Kansas City Barbeque Society (KCBS), a 20-year-old … keep reading
---
Ray Basso's Podcast interview with Byron Chism – Monday, 31 October 2005
"Byron has become one of the most well known BBQ cooks in the country…" listen to podcast
---
Byron's Trophy Room – BBQtv – Added to YouTube.com March 16, 2008
"Byron Chism has the most diverse collection of BBQ trophies from ten years of competing…"
---