Product Ingredients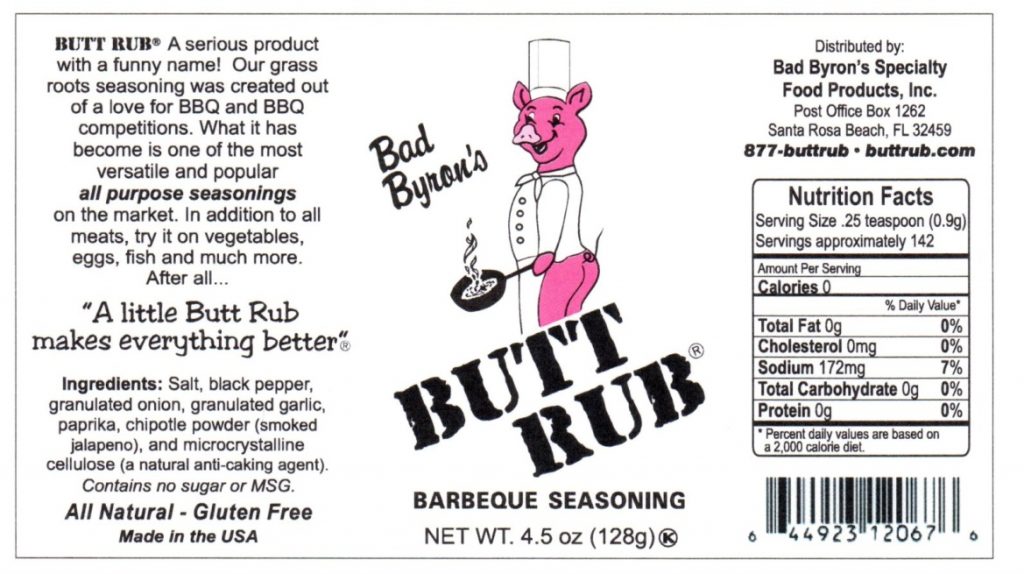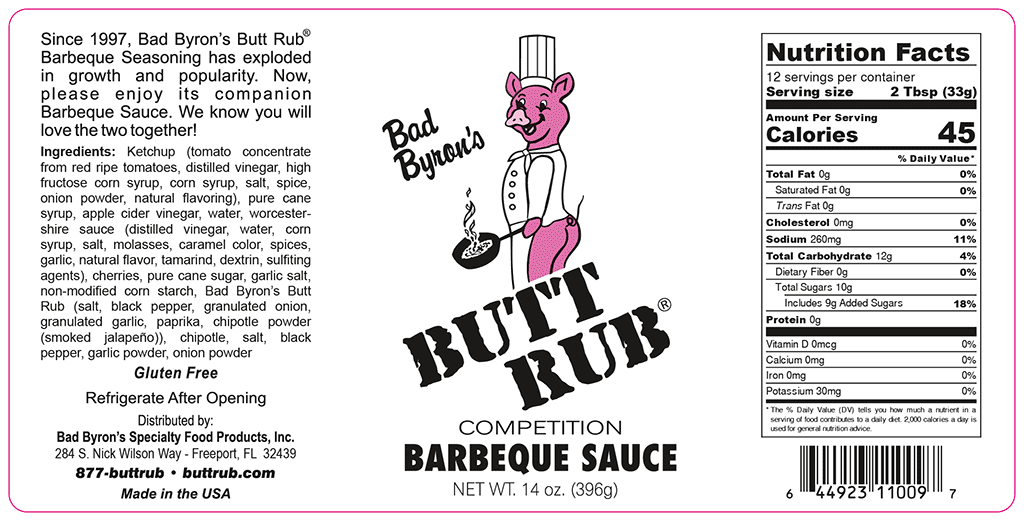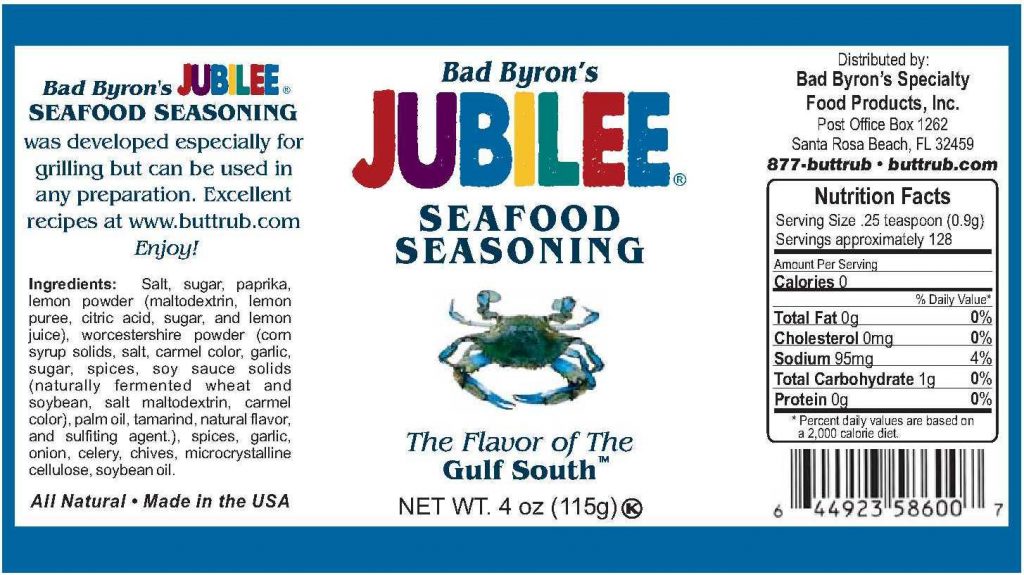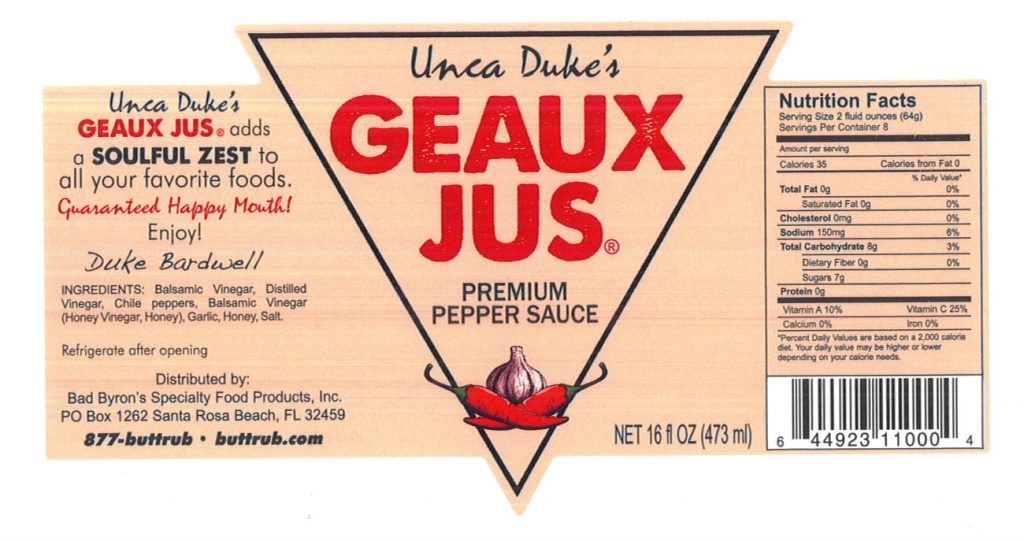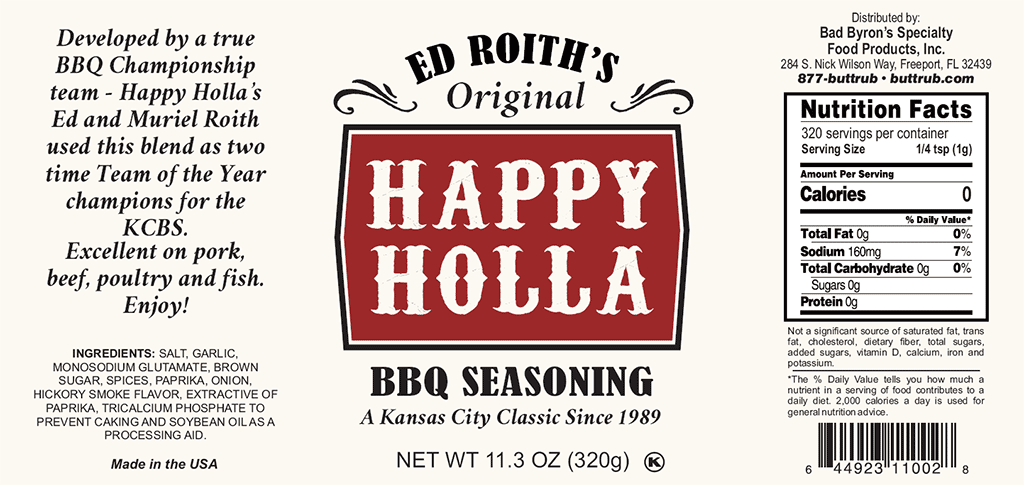 Jubilee® Classic Gulf South Crabcakes
Yields 6 crabcakes
Ingredients:
1/2 cup breadcrumbs
3 tablespoons mayonnaise
2 teaspoons Creole or Dijon mustard
1 tablespoon Worcestershire
1 tablespoon green onion, minced
1 egg, lightly beaten
2 teaspoons Bad Byron's Jubilee® Seafood Seasoning
Dash Tabasco®
Dash lemon juice
1 pound lump crabmeat
Flour and butter as needed
Directions:
Mix well all ingredients except crabmeat, flour and butter

Gently fold in crabmeat and mix well. Mold into patties a little larger than golf ball size

Flatten and dust lightly on each side with flour

Sauté on medium heat until golden brown on each side (approximately 5
minutes per side)
Meat Loaf Burgers
(submitted by Tom Vogel of Marion, Iowa)
Ingredients:
2 lbs. ground beef or 1 lb. ground beef and 1 lb. pork sausage
1 egg
1 cup bread crumbs
½ cup apple sauce
1 cup shredded cheese (Mozzarella or Swiss)
4 tablespoons ketchup
1 pkg dry onion soup mix
½ tablespoon Bad Byron's Butt Rub®
Directions:
In a bowl, mix all ingredients together. When ingredients are mixed together, make into patties approximately 4 inches across and approximately ¾ of an inch thick. NOTE: 2 lbs. should make approximately 8 burgers.
Prepare Grill:
Preheat grill to around 300 degrees. When ready to cook, spray or brush grill grate with cooking oil to prevent sticking.
Grilling:
Use ½ tablespoon of Bad Byron's Butt Rub® to 1½ cup of butter or margarine. Mix and melt in the microwave, stove top, or grill. (Butter or margarine mix is used for basting the meat loaf burgers and buns).

Place burgers on a plate and brush one side of the meat loaf burgers lightly with the melted butter or margarine mix.

Arrange the meat loaf burgers buttered side down on hot grate and brush the other side of the meat loaf burgers lightly with melted butter or margarine mix. Grill until bottoms are nicely browned, approximately 4-5 minutes.

Using a spatula, turn the meat loaf burgers over and baste with butter or margarine mix and grill until they are browned and cook to taste, approximately 5-7 minutes.
Buns:
Using Ciabatta bread or Texas Garlic Toast (my two favorite choices) brush butter or margarine mix on top side of bread, grill until brown, then flip and brush bottom side of bread with butter or margarine mix, grill until brown. Do this during the last two minutes the meat loaf burgers are cooking. Set out toppings (any condiments will work on a meat loaf burger). Put burgers on toasted buns and serve.
Sauce: (optional)
I use the microwave for this.

1/3 cup ketchup
1/3 cup prepared mustard
¼ cup brown sugar

Heat the ingredients at low heat so you will not burn the sauce. Stir until sugar is dissolved. Put meat loaf burger on bun and add sauce. Enjoy.
Butt Rub® White Wine Skillet Chicken
(submitted by Billy Garrett)
Easy, delicious and impressive. I use thighs and legs because I prefer the flavor of the dark meat. This also works very well with pork chops. Serves four.
2 Tbs. olive oil
6 thighs and legs or a chicken, cut into 6 pieces (3-1/2 to 4 lb.)
Bad Byron's Butt Rub®
Black pepper
1 medium onion, finely chopped
1 cup dry white wine
1 cup homemade or low-salt canned chicken stock
2 Tbs. butter
2 sprigs thyme
Directions:
Heat the oil in a large skillet over medium high heat. Season the chicken liberally with Butt Rub® and black pepper and sear it in the skillet on the skin side to brown it and to render the fat from the skin, about 5 minutes. Turn the chicken over and cook on the bone side for about 5 minutes. Remove and reserve the chicken.
Pour off all but 2 Tbs. of the fat from the pan. Add the onion, sauté until the onion is well-clarified, about 5 minutes. Add the wine and chicken stock to the pan and stir to deglaze the pan. Put the chicken back into the pan along with the thyme. Bring the liquid to a boil, reduce to a simmer, cover the skillet with a lid, and simmer the chicken in the sauce until cooked through, 35 – 45 minutes.
Remove the chicken and thyme sprigs from the pan, turn the heat to high and bring the liquid to a boil. Reduce the volume of liquid by half, about 5 minutes (or 6 to 7 minutes if you want a thicker sauce). Add the butter, stir to combine, and remove the pan from the heat. Serve the chicken over egg noodles or rice; taste and season the sauce with salt and pepper if necessary and spoon it over all.
Multiple Award Winning Black Bean Chili
(submitted by Doug White, Aggressive Appliances, Orlando, FL)
Ingredients:
1 tablespoon vegetable oil
1 onion, diced
2 cloves garlic, minced
½ pound ground beef
½ pound spicy sausage
3 (15 ounce) cans black beans, undrained
1 (14.5 ounce) can crushed tomatoes
1 ½ tablespoons chili powder
1 tablespoon dried oregano
1 tablespoon dried basil leaves
3 tablespoons Butt Rub®
1 tablespoon cumin
Cayenne pepper to taste
1 tablespoon red wine vinegar
Directions:
Heat the oil in a large heavy pot over medium heat; cook onion and garlic until onions are translucent. Add beef and sausage and cook, stirring, until meat is brown. Stir in beans, tomatoes, chili powder, oregano, basil, Butt Rub, cumin, cayenne and vinegar. Reduce heat to low, cover and simmer 60 minutes or more, until flavors are well blended.
Butt Rub® & Geaux Jus® Bloody Mary
(submitted by Billy Garrett)
1 ½ oz. vodka
¾ c. V8® juice
½ t. Butt Rub®
½ oz. Geaux Jus®
½ oz. Worcestershire®
Tabasco®  to taste
¼ oz. celery seed
Squeeze of lemon wedge
Squeeze of lime wedge
Celery stick for garnish
Directions:
Combine all ingredients with a cup of ice and shake well.  Garnish with celery stick.
Tastes good & nutritious too!
Grilled White Fish with Butt Rub®
(contributed by Mark Purcell)
With the skin side of the filet down, coat the fish with a little olive oil, butter, Butt Rub® and top with grated parmesan cheese.  Place the fish on tin foil and grill for about 10-15 minutes until a slight crust builds up on the edges.  Or you can broil the fish in the oven for about the same amount of time.
Butt Rub® Maine Beer Chicken aka Deep Fried Heaven
(contributed by Daryl Riggs)
Take 2 whole chickens, remove the gizzards and stuff from the inside. Take a large trashbag, put chickens inside, pour 4 cans of your favorite beer in with them. Let them soak for 2 hours, refrigerated. Do not drink the beer afterwards. Take the chickens out, rub generously with Butt Rub®, refrigerate for at least 3 hours. Peel 2 large Vidalia onions, shove inside each chicken, along with 2 cloves of minced garlic. Get one of those King Cookers ( or similar) fill with peanut oil, bring to 275 degrees, lower chickens inside and let em' fry for about 35 minutes.
Easy Low Carb – High Protein Meal
(contributed by G Scott Whiting)
Ingredients:
1 can of Choplets
1 serving of Olive Oil
1 can of low carb Alfredo Sauce
1 cup of Sharp Shredded Cheese
1 jar of Butt Rub® BBQ Seasoning
Directions:
Fry the choplets (sprinkling them with Butt Rub® ) in olive oil about 2 minutes on each side over a medium heat, then place them in a baking pan. Sprinkle cheese over the choplets and pour the alfredo sauce over the entire surface of the choplets and cheese. Bake the entire dish at 350 degrees for 10-15 minutes. If you want a nice touch, sprinkle parsley or a little more cheese on the top – or get wild and use both!
Meatless Meat Balls
(contributed by G Scott Whiting)
Ingredients:
3 cups – Oatmeal
3 cups – Bread Crumbs
3 cups – Stove Top Stuffing
3 cups – Special K cereal (really!)
2-3 cups – Sharp Cheddar Cheese (shredded)
2 packages Dry Lipton Onion Soup
3 cups of Water
6 Egg Beaters (or 4 eggs)
3-5 Tbsp of Butt Rub® BBQ Seasoning
Directions:
Mix everything very well together and let stand covered for 20-30 minutes so everything is moistened. If you need additional water, add another 1/2 cup and mix again. Form into meatballs and fry in olive oil in a pan. Put into a baking dish and add BBQ sauce. Note: You can also add Mushroom soup and 1/2 can of milk so the mushroom soup is more like a gravy for a Swedish Meatball Style instead of BBQ Sauce.
Quesadilla
(contributed by G Scott Whiting)
Ingredients:
1 package of Frozen Morningstar Farms Griller Crumble
1 package of Quesadilla shells
1 serving of your favorite cheese or various different cheeses (Go Wild!)
1 can Pan Spray
1 serving of Butt Rub® BBQ Seasoning
1 serving of Sour Cream
1 serving of Salsa
Directions:
Precook the Morningstar Frozen Griller Crumble with a good helping of Butt Rub® BBQ Seasoning and olive oil. Cook until desired texture (about 3-5 minutes). Remove and set aside.

In a medium heated pan, spray a quesadilla shell and spray it with a pan spray and lay that side down. Now the fun part – Add your favorite cheeses on the shell and add a good helping of the griller crumble you precooked. Put another quesadilla shell on top and spray the top with a non-stick pan spray. After about 2 minutes, CAREFULLY flip the entire quesadilla so that both sides are cooked golden brown. Cut in quarters and serve with sour cream and salsa.
Black Bean and Smoked Pork Chili
(submitted by David Ross)
Ingredients:
3 cans black beans, drained
2 lbs leftover smoked pork butt (Note: it's hard to have leftovers)
1 onion
1 green pepper, coarsely chopped
2 tablespoons Bad Byron's Butt Rub®
2 teaspoons ground cumin
2 teaspoons oregano
1/4 teaspoon cayenne
1 bay leaf
1 can (28 oz) crushed tomatoes
2 cups water
Directions:
Put all ingredients in crock pot and set low for 8 hours.
If using a Dutch oven, bring to boil, then lower heat to simmer for 3 hours.
Add more water if needed.
Serve over rice or spaghetti.
Garnish with the usual suspects: chopped onion, sour cream, shredded cheese, chopped avocado, etc.
Butt Rub® Cheddar Cheese Spread
(submitted by Ellis Snare)
Ingredients:
1lb very sharp cheddar cheese (shredded)
1 – 4-6 oz jar of roasted red peppers or pimentos (Chop in liquid from the jar)
1 Tbsp. grated onion (or to taste)
1/2 tsp. Bad Byron's Butt Rub® (or to taste)
Directions:
Mix together and serve on your favorite snack crackers.

Delicious!!
Butt Rub® Jalapenos
(submitted by Richard Karstedt)
Take about 15 or 20 jalapenos cut in half lengthwise and remove the seeds. Take small pieces of chicken, pork, beef or shrimp and season with Butt Rub®. Take a small container of sour cream and season with Butt Rub®. Take the sour cream and apply it to each side of the jalapenos, put the chicken, beef, pork or shrimp on one half and put them back together and wrap with bacon. Put 5 or 6 on a skewer and barbecue for about 1 hour.
Butt Rub® Pulled Pork
5-7 lb Boston Butt
Apply a generous amount of Butt Rub® and massage thoroughly into meat. Place in plastic food bag. Refrigerate overnight if possible. Barbeque at 225-250˚. Approximate cooking time: 1 ½ hours per pound. Using your favorite wood, cook till you reach an internal temperature of 170-180˚, then wrap in heavy foil and continue to cook, taking the temperature to 190-195˚. Open a corner of the foil and let the meat cool down. Pull with hand or fork. Re-season with Butt Rub® to taste and add your favorite BBQ sauce to taste
Butt Rub® Onion Rings
(submitted by Alice Eubanks)
Ingredients:
1 or 2 large sliced onions
Bowl 1: 1 1/2 cup of flour, 2 Tablespoons of Bad Byron's Butt Rub® (more or less to taste)
Bowl 2: 1 egg and 1 cup of milk
Directions:
Dip the onion rings into the egg and milk bowl. Then dip the onion ring into the flour mixture. Coat onion well. Dip again into the egg and milk, then back into the flour mixture. We call that double dip. Fry the onions until they are a golden brown.
Butt Rub® Ears of Corn
(submitted by Jean Harris)
Directions:
Soak  4 ears of corn in cold water for 1 to 2 hours.  Pull back husk, but do not remove, and remove silks.  Rub butter or margarine onto ears.  Sprinkle with Bad Byron's Butt Rub®.  Pull husk back over ears and secure at the top with a small piece of husk.  Cook on BBQ 30-35 minutes.  Remove outer husk and enjoy.
Butt Rub® Fried Dill Pickle Chips
(submitted by Mark Skjerve)
Ingredients:
1/2 cup flour
1 tablespoon (more or less to taste) of Butt Rub®
16 oz jar of Dill Pickle chips (Hamburger pickle chips will do)
Directions:
Mix the flour and Butt Rub® and coat the pickle chips. Fry 'em up like you would onion rings until golden brown. Serve warm. Great stuff! Easy to make.
Butt Rub® Roasted Oysters
Ingredients:
Fresh Oysters on half shell
Lemon Juice
Hot Sauce
Bad Byron's Butt Rub ® Barbeque Seasoning
Parmesan Cheese
Directions:
Shuck oysters on half shell. Squeeze lemon juice on top of oyster in half shell. Add a dash of hot sauce to taste. Sprinkle Butt Rub® Barbeque Seasoning on top. Top with Parmesan Cheese. Roast in 475 degree oven approximately 10-15 minutes until cheese is brown and liquid is almost evaporated.
Butt Rub®Sloppy Joes
(submitted by Robert Worsley)
Ingredients:
2 lb hamburger meat; ½ lb ground pork
1 tsp Bad Byron's Butt Rub®
1 medium sweet onion (diced)
Your favorite BBQ Sauce – I like Texas Rib Rangers (mild or spicy)
Directions:
Mix beef and pork together. In a medium hot pan, sauté onions. Add meat mixture, brown and drain off fat. Add Butt Rub® ( 1 tsp or to taste). Add approximately one 16 oz bottle of your favorite BBQ Sauce. You can add more than a bottle if you want it really sloppy!
Note:
Sloppy joes actually get better after refrigeration and reheating.
Butt Rub® Steamed Shrimp
Everyone that has tried it says it's the best tasting steamed shrimp they have ever had.
For Commercial Steamers:
Lay down a layer of thawed shrimp in steam pan, sprinkle a moderate amount of Butt Rub® on shrimp.  (Adjust the amount of Butt Rub® for your personal taste or that of your customer).  Small to medium in shell shrimp – 3 minutes.  Large in shell shrimp – 4 minutes.  You can also do individual frozen shrimp – just add 1 minute to steam time.

They hold well in a plastic bag.  The flavor will permeate even more in the bag.  This is great for carryout orders.  Serve with butter on the side.  These shrimp can also be served cold.  You can also use the steamer to do Butt Rub® Fish Fillet (try Grouper).  Butt Rub® is also great on steamed crab legs.
Butt Rub® Venison
(Original Recipe submitted by Anna Waff)
Take 1 -2 lbs Deer Meat, cut in strips
Soak the deer meat in milk for about 30 minutes
Place the deer meet in a plastic bag with Butt Rub® and shake to coat the deer meat
Place the coated strips in a pre-heated, sprayed pan on the stove and fry until done
Make the gravy:

Boil 2 cans of chicken broth and add 1 cup of cold water with 2 Tbsp of flour mixed in until clear, then add Kitchen Bouquet. When it has boiled a few minutes, add some salt to your taste. (The Butt Rub® give it all the other flavor it needs).

Add the gravy to the deer and let simmer at least 30-45 minutes on low heat.
Pour the deer with gravy over rice and enjoy! Delicious!
Butt Rub® and a Beer
(submitted by Susan Martelli – Grand Cru Wine Cellar)
(Chicken)
This is one of our favorite ways to barbeque chicken. It's simple, fast, and nearly goof proof. The meat is moist and succulent. The chicken grills from the outside and is steamed from the inside with flavors infused from the onions and herbs.
Ingredients:
2 lb Whole Chicken (fryer)
1/2 Onion, finely sliced
1 12 ounce CAN of American Beer
A few sprigs of fresh herbs, Rosemary works well.

Bad Byron's Butt Rub® to cover chicken
1 Tablespoon, Hot Sauce
2 Cloves garlic, coarsely chopped
Directions:
Clean the chicken inside and out. Pat dry. Coat the outside of the chicken with Bad Byron's Butt Rub®.

Stuff the cavity with the onions, garlic and herbs.

Using a can opener (the pointy kind) make about five openings in the top of the can of beer. Pour out half of the beer (If you
like beer-drink it). Add the hot sauce to the beer can.

Carefully place the chicken (this is the tricky part) open end first over the beer can so that the chicken sits upright on the can.

Place the beer can and chicken assembly on the grill and cook with the lid closed until done.
Rob's Butt Rub® Grilling Technique
(Contribution of Robert Conners, Orlando FL)
Rob says: "In response to your recipe request my recipe is simply Butt Rub seasoned grilled steak. I really don't have a recipe as much as a technique that you may share."
To begin with, you do not have to pay for an expensive cut of beef to have a steak dinner that tastes like a million. My favorite cut, which is very reasonable and VERY TASTY is referred to as a Chuck Eye Steak. If you find a good cut of it, it will be hard to distinguish it from a Rib Eye in appearance or flavor.
Now for the technique. When I am grilling pork chops or steaks my preferred method is to grill from the frozen state. As soon as I return from shopping I season generously with Butt Rub and freeze before grilling. The result is the steaks get to take-on the Butt Rub flavors and the grilling process produces a steak that is grilled well and very flavorful on the outside, but remains medium to medium rare or rare & juicy on the inside.
To go with, toss some fresh mushrooms, onions, peppers, etc. in a little olive oil and Butt Rub, skewer them, grill them and ENJOY!
Butt Rub® Roasted Salmon
(Contribution John Jacob, Santa Rosa Beach FL)
Ingredients:
Fresh Salmon fillet with skin removed
Butt Rub® Seasoning
Molasses
Crushed garlic cloves
Balsamic Vinegar
Directions:
Apply a liberal coating of Butt Rub® on both sides. Let it sit while you prepare the glaze.

Molasses Glaze: In a sauce pan combine molasses, a couple of cloves of crushed garlic and balsamic vinegar to taste. Be careful not to overpower with the vinegar. Also if you have a strong molasses, you can add a small amount of good (grade B) maple syrup.

Let this mixture simmer for a few minutes.

In a 450-475° oven, roast the salmon fillet on a sheet pan with the molasses mixture on top for about 10-15 minutes.
Butt Rub® Bruce Burgers
(Contribution of Bruce Paladini, Santa Rosa Beach FL)
(yield 6-8 burger patties)
Ingredients:
2 lb ground beef chuck
1 egg
3/4 cup bread crumbs
2 1/2 T Butt Rub
1 small onion – minced
Directions:
Mix together all ingredients and shape into patties.
Rick's Butt Rub® Pork Loin
(Contribution of Rick Ruark)
Rick says he only shares this recipe with a few quality people, so he thought it was time to share it with his good buddy Bad Byron and his friends. He calls this the "GOOP" concoction.
You will need:
1 6-8 lb pork loin
1 cup Wesson oil
3/4 cup Worcestershire
4 tablespoons Butt Rub seasoning
3 tablespoons black pepper
2 tablespoons garlic powder
1 teaspoon salt
Directions:
Use mesquite chips on the coals (IMPORTANT)

I like to butter-fly the loin to reduce cooking time. Cook over medium grill (about 310 degrees)

Continue to baste pork while cooking over grill. Don't let the meat dry out. As you baste continue to sprinkle a little extra Butt Rub on the meat (just a little at a time).

Use all the "GOOP" concoction when you baste–don't leave any in the bowl. As you get to the bottom of the bowl you will notice good spices …keep spreading this on the meat, it will form a nice spice crust.

As the meat reaches 170 degrees internal, pull from the grill and let the meat rest for a couple of minutes.

Slice into bite size pieces and share with only the closet of friends.
Butt Rub® Potatoes (Grilled)
(Contribution of Rick Ruark)
Rick says this is a simple recipe that is awesome at his deer camp.
Take a good size baking potato (also good on sweet potatoes) and slice in about 1/2 inch wide pieces, keeping the shape of the potato.
At this point you will want to transfer the whole potato onto a piece of tin foil.
Now, take an onion and slice it into about 1/4 inch wide pieces.
Here comes the rocket science part of it. Place the onion slices between the potato slices.
After you finally get this done, put several large pats of butter on top so when it melts it will get all into it.
Sprinkle GENEROUSLY with Butt Rub.
Wrap the potato with the tin foil and put onto a hot grill (about 375 degrees). Cook until tender.
Now stand away from the grill and let your friends get to it. I promise you, it is the best potatoes we have around our camp.
If you want to get fancy, cook up some bacon and slice into small pieces to put on the potato after you pull it from the fire (you knew I would add meat in here somewhere).
Butt Rub® Fried Chicken
(Contribution of Ted Whisnant)
Rub Chicken pieces with Bad Byron's Butt Rub, cover with wrap and store in refrigerator for at least 3 hours.
Dredge chicken in sifted flour, then an egg wash. Finally coat chicken with cracker meal.
Fry chicken in hot oil. Serve with dirty rice, baked beans, and cole slaw.
Butt Rub® 'Texas' Toast
First make honey-butter by adding honey to soft butter (2 parts honey to one part butter)
Spread honey-butter on thick bread then season with Butt Rub®.
Toast until golden brown. Serve with steaks
Butt Rub® Spiced Pecans
(contribution of Kathy Carpenter)
Ingredients:
2 cups pecan halves
1 ½ T butter
1 T Butt Rub®
1 T Sugar
Directions:
Preheat oven to 350°

Melt butter and toss with pecans until evenly coated

Mix sugar and Butt Rub® then season with spice mixture

Bake on sheet pan until golden (approx. 15 minutes)

Cool and serve

Reseal in airtight container
Butt Rub® Steaks
Marinate steaks a few hours with Italian dressing
Brush steaks with melted butter and a generous amount of Butt Rub®
Char steak on a high heat grill and serve on a pre-heated plate
Add equal parts of melted butter to fresh Italian dressing (not from the marinade) for a delicious and complementary steak sauce
Butt Rub® Grilled Catfish with Caramelized Corn
Even if you don't think you like catfish, you will enjoy this.
Catfish:
Squeeze a small amount of lemon juice on the fillets and season lightly to moderate with Butt Rub®
Lightly coat melted butter or olive oil on each catfish fillet
Grill at a high temperature approximately 4-5 minutes per side
Caramelized Corn:
Ingredients:

Butter, as needed
Corn, cut from 8 ears
1 onion, small diced
5 cloves garlic
1 roasted bell pepper, small dice

½ bunch green onions, minced
Butt Rub® to taste
Brown sugar, as needed
Chicken stock, 1 cup
Cream, ½ cup

Directions:

Sauté corn in butter until it begins to brown.
Add diced onion and continue to cook until onions begin to caramelize.
Add garlic, brown sugar (approximately 1 Tablespoon), Butt Rub® (approximately 1 teaspoon). Stir and sweat for about half a minute, then add chicken stock.
Cover and let simmer, stirring periodically for approximately 25 minutes.
Remove cover. Add cream. Allow to reduce at low heat until a nice creamy consistency is achieved. Finish with roasted pepper and minced green onion.
Butt Rub® Bird Brine
Byron uses this in competition for whole birds.
Ingredients:
1 cup morton's kosher salt
½ cup turbinado sugar
1/3 cup Butt Rub® seasoning
juice from 2 lemons
1 gallon water
Directions:
Agitate the brine with a wire whisk until the salt and sugar dissolve. You can also heat up the brine to help this along.

Place the poultry in a large heavy zip top bag (Can be any thing from Cornish hens to turkey, whole or pieces)

Cover meat with (cool) brine and store refrigerated for 1 hour per pound of meat.

Rinse with cool water and pat dry.

Apply olive oil and a light dusting of butt rub and you are ready to cook.
Butt Rub® Wings
Unbelievably simple and dynamite tasting.  This how I sample people at trade shows and other promotions.
Season chicken wings with Butt Rub® – (No oil, no marinade or any other ingredients)
Grill on a medium high grill until well browned on each side.
Butt Rub® Ribs
Ribs are a tough cut of meat. A common mistake is cooking at too high a temperature, as in grilling. Slow it down and cook ribs indirectly at approximately 225°.
But first, learn to remove the membrane on the back side of the ribs. You can lift it up with a metal skewer. Get a grip and then pull it off. This is to allow seasoning to penetrate both sides of the rack and will also help the fat render off from the ribs.
We season every rib with a moderate application of Butt Rub®. Season prior to placing on the grill. Keep temperature low as mentioned and after the 1st hour mist the ribs lightly with apple or pineapple juice. Baby backs will reach ideal tenderness in approximately 4 1/2 hours and spareribs will need approximately 1 hour more. You may choose to "finish" the ribs with applying a sauce or glaze, the final 15-20 minutes of cooking, although these ribs will be delicious without a sauce.
Jubilee® Seafood Seasoning
From South Texas to South Florida, Southern cooking traditions meet the Gulf's bounty with great exuberance. The pinnacle of this relationship can be found in Alabama, along the eastern shore of Mobile Bay. Here, a rare phenomenon known as a "Jubilee" exists when the conditions are just right. Shouts of "Jubilee" can be heard in the night, and locals gather the bay seafood that is waiting for them patiently along the shore. In the spirit of this offering we present Bad Byron's Jubilee® Seafood Seasoning – The flavor of the Gulf South™.
To learn more about the "phenomenon" which inspired this product, visit: http://www.daphneal.com/jubilee.asp.
Crab Stuffed Mushroom Caps
(submitted by Lisa C. Meyer)
Ingredients:
24 Large Mushroom Caps
1/4c.diced onion
1/4c.diced celery
1 tbsp bacon fat or butter
1 c. Cornbread crumbs
2 large jalapeños diced
3oz.of Fresh bacon chunks or pieces NOT BITS
1 lb Lump Crab meat
1/4 tsp. Salt
1 1/2 tsp Jubilee® Seafood Seasoning
Chicken Broth
Directions:
Sautee onion and celery in bacon fat till translucent. Set aside.

In large bowl pour 1 cup of cornbread crumbs with enough chicken broth to make soupy. Stir and let set until broth is absorbed and consistency is thick and mushy. Add onions, celery, jalapenos, bacon, crabmeat, Jubilee® seafood seasoning. Mix well. Spoon mixture into mushroom caps.

Bake in preheated 375 degree oven for about 18 to 20 minutes. Serve
Jubilee® Seafood Seasoning Fish Stew
(submitted by Ted Whisnant)
In the Pee Dee area of South Carolina, a catfish stew ranks highly with fine dining. The locals have great recipes, but innovations are welcome from any and all. This is my recipe for catfish stew using Jubilee® Seafood Seasoning.
Select 3 to 3 1/2pounds of catfish filets. Use Jubilee® seasoning to rub the filets and then wrap the fish snugly in plastic. Refrigerate overnight.
The following day, fry 4-6 pieces of bacon or fatback. Then sauté 1 to 1 1/2 cups of red, yellow, and green bell pepper with 1 to 1 1/2 cups of chopped red onions in the bacon drippings. Season with salt and fresh ground pepper to taste.
To the sautéed vegetables, add 2 cans of stewed tomatoes, one can of condensed tomato soup, and a one pound package of frozen okra. Season with Tabasco to taste. (You may wish to sauté some jalapeño peppers with the bell peppers; if so, omit the Tabasco). Depending on the liquid in the tomatoes, you may wish to add water. The desired consistency of the finished fish stew is similar to spaghetti sauce.
Add the uncooked fish to the soup (stew) and cook slowly for about one hour. If you wish to dress up the recipe, add uncooked shrimp, canned clams, or scallops. Here in SC we want the fish only.
Meanwhile, prepare a large pot of white rice. We prefer long grain rice, but use whatever you like. I once used Uncle Ben's Tomato Basil with good results.
Serve the reduced stew ladled over rice with hushpuppies, garlic bread, or even regular sliced bread. Onion rings, french fries, or fried sweet potatoes also go well with fish stew. Some folks like cole slaw served on the side. We like it hot and spicy, but you can adjust this according to your taste. This is a great cold night dish, particularly for a group of men who've had a few cocktails.
Island Seafood Grill
(submitted by Tommy Tucker)
Ingredients:
1 lb firm flesh fish fillets
1 lb peeled 21-24 count raw shrimp
1 lb large scallops
1 each red, green, yellow bell pepper sliced thin
1 large sweet onion thinly sliced
2 each yellow and green squash thinly sliced
1/2 cup of chopped cilantro
1 habañero minced
Jubilee® Seafood Seasoning
3 tbsp olive oil
Directions:
Cover grill surface with heavy-duty aluminum foil. Coat surface with olive oil. Place mixed pepper slices on the foil first. Next arrange the squash slices. Place the fish fillets on the veggie base with the shrimp and scallops mixed in together. Sprinkle generously with the Jubilee® Seafood Seasoning. Top off with the cilantro and minced habañero. Fold the edges of the foil inward to create a pouch. Set grill to medium heat. Cook 20-25 minutes. Remove from the grill and allow to cool. Serve with a dirty rice.
Heather's Jubilee® Seafood Stuffing for Two
(submitted by J C Stevens)
Ingredients:
8 Large Shrimp, 12-16 Count
1 Sleeve Ritz Crackers, Crushed
1/4 Cup Shrimp, small diced
2 Tbsp Sweet Onion, Minced
2 Tbsp Butter, melted
2 tsp Jubilee® Seafood Seasoning
1/8 tsp White Pepper (optional)
1 Lemon, cut into wedges
Directions:
Preheat oven to 375 degrees.
Remove shells from shrimp, de-vein, and slice almost through approx 2/3 down shrimp body (butterfly).
Take ½ tbsp butter and pour into a 6×8 baking dish. Using shrimp to move butter, coat dish and all shrimp
lightly with butter. Arrange buttered shrimp in buttered dish.
Sprinkle ½ tsp Jubilee® Seafood Seasoning over shrimp.
Put remaining ingredients except butter in a plastic bag and mix thoroughly. Add remaining butter and mix again,
thoroughly. Let sit for 3 minutes.
Pour contents of bag over shrimp, or take a serving spoon of stuffing and place on top of each shrimp.
Bake at 375 degrees for 15-20 minutes or until stuffing begins to turn light brown. Remove from oven and let sit
three minutes before serving.
Rub a lemon wedge around outside of each serving plate.
Accompany with Asparagus and a light butter sauce, a lemon wedge, along with a light fruity Chardonnay.
Relax and enjoy!
Jubilee® Grilled Shrimp
If you never use our Jubilee® Seafood Seasoning for anything else, this method is a must! This dish won 3rd place for the cook's choice category at the 2000 Jack Daniel's World Invitational Barbecue Competition.
Peel and de-vein large shrimp (leave tail on)
Toss lightly in olive oil
Season generously with Jubilee® Seasoning
Skewer the shrimp and place on a high, direct heat grill. Shrimp will cook quickly, approximately 3-4 minutes per side
Jubilee® Gulf South Sauté
For shrimp, scallops, oysters, & fish fillets. This can be prepared ahead and will keep indefinitely in refrigerator or freezer.
Blend well 3 tablespoons of melted butter (unsalted), with 2 teaspoons of Bad Byron's Jubilee® Seafood Seasoning (for 1 stick butter add 1¾ tablespoons Jubilee®)
Use as needed to pan sauté shrimp, scallops, oysters or fish fillets
Jubilee® Classic Gulf South Fried Shrimp
Yields 2 pounds
Ingredients:
¾ cup buttermilk
1 cup cornmeal, fine grind or flour
3 Tablespoons Bad Byron's Jubilee® Seafood Seasoning
2 pounds Shrimp butterflied
Directions:
Season buttermilk with 1 tablespoon of Jubilee® seasoning. Mix well

Season cornmeal or flour with remaining 2 tablespoons of Jubilee®. Mix well

Dip shrimp first in seasoned buttermilk, then lightly dust in seasoned
cornmeal or flour. Shake off excess

Fry at 350° until golden (approximately 3-4 minutes)

Drain on paper towels
Gulf South Grilling with Jubilee®
Bad Byron's Jubilee® Seafood Seasoning was made for the outdoor grill.
Seasoning will slightly caramelize as it grills for a delicious flavor and texture.
Excellent for fish fillets, scallops and shrimp skewers.
Condition a hot clean grill grate by applying cooking oil with paper towels.
Apply a light coat of olive oil or melted butter to the fish, scallops or shrimp skewers.
Season generously with Jubilee®. Fillets should be no more than 1″ thick.
They will be ready when opaque throughout and it just begins to flake apart (approximately 5 minutes per side). For scallops and shrimp approximately 4 minutes each side.
Shrimp Boil
Yields 2-2½ pounds
Ingredients:
2 qts. water
2 tablespoons salt
1 tablespoon Lemon juice
7 tablespoons (2 oz.) Bad Byron's Jubilee® Seafood Seasoning
¾ teaspoon Tabasco® sauce
Directions:
Bring all ingredients to a boil. Reduce to simmer

Add shrimp and bring back to a simmer. Shrimp will be ready in 5 minutes
Unca Duke's Geaux Jus®
Click here for more about Unca Duke and Geaux Jus® in Coastal Homes & Lifestyles.
Geaux Jus® Guacamole
Simple, delicious, healthy
2 Hass Avocado's (soft to the touch)
1 small onion, minced
1 roma tomato, fine diced
5 Tbsp Unca Dukes Geaux Jus®
Salt and pepper to taste
Directions:
Cut open avocodos and remove pit. Scoop out pulp with a spoon and mash along with all other ingredients. Great with tortilla chips.
Butt Rub® & Geaux Jus® Bloody Mary
(submitted by Billy Garrett)
1 ½ oz. vodka
¾ c. V8 juice
½ t. Butt Rub®
½ oz. Geaux Jus®
½ oz. Worcestershire
Tabasco  to taste
¼ oz. celery seed
Squeeze of lemon wedge
Squeeze of lime wedge
Celery stick for garnish
Directions:
Combine all ingredients with a cup of ice and shake well.  Garnish with celery stick.
Tastes good & nutritious too!
Cherry Sauce for Pork Chops
(submitted by Gail Underwood)
½ c. seeded, halved fresh cherries
2T. honey
2 ½ T.  Unca Duke's Geaux Jus®
Butter  as needed
Directions:
Brown pork chops.
Pour cherry sauce & cook pork chops in the oven until done.
Remove chops and reduce sauce in pan.
Add a small amount of butter to finish the sauce and serve over chops.
Ditty's Pie Crust
(submitted by Gail Underwood)
5 c. Flour
½ t. Salt
2 c. Lard, Cold Butter or Crisco
1 Egg
3T. Unca Duke's Geaux Jus®
Water As Needed
Directions:
1. Mix egg, Geaux Jus® and enough water to make 1 cup liquid
2. Cut the lard, butter, or Crisco into flour.
3. Gently knead together and rest 30 minutes in refrigerator.

Makes 2 crusts, top & bottom.